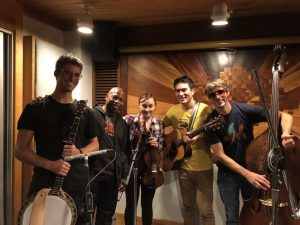 Even in the epicenter of the Bay Area tech boom, the Burl Haggard String Band keeps the traditions of the western swing music of the 1920s and 30s alive and well. Founded initially by musicians Lucas French and Adam Simo, the band's lineup also includes Kristina Miller, Marquitas Ignatius, and Mike Berry on the pedal steel. They are all multi-instrumentalists who draw on different genres and influences to create their unique sound.
The band holds to the almost entirely acoustic standard that defines western swing. While recording a six-song EP at Live Oak Studio, they tracked most of their audio together, playing in the same room rather than recording each instrument separately. "We were all womping on an acoustic instrument," said French. "The energy is so different with the whole band in the room playing."
The Burl Haggard String Band plays for the love of the music. They hope that it resonates with people today and saves the genre from going extinct. Live Oak is proud to play a part in continuing that tradition. French's favorite song to record at Live Oak was "Keeping a Light On", an original song that he hopes will bring comfort to all those affected by the California fires this year.
The Burl Haggard String Band can be found at http://burlhaggard.com