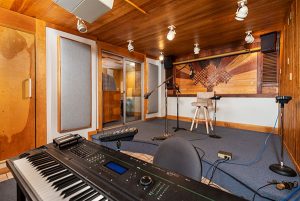 Being a new or young musician can be an exciting time in your life. Whether you're working solo or are in a band, there are few better feelings than putting your first-ever single, EP, LP, or album.
But it can also be a nerve-wracking time – you want it to be good. You want people to listen to it and like it. You want your talent and skill to be conveyed accurately to the listener. In that case, you and/or your band should record in a professional studio. Here are a few perks of doing just that:
Best Sound Quality
You know that your music sounds great live. You know that the vocals and instruments are perfect. But how does a listener know that if the audio quality isn't good? That's where a professional studio can help. It will offer you a room optimized for the best sound, high-resolution recording equipment, and a team of audio engineers who have years of experience editing to make sure it sounds exactly how you want it to. No matter how talented you are, this is not something you can replicate at home.
They're Professionals
While you're new to the world of releasing music, the audio experts at a studio are not. They've done this many times in the past and know exactly what it will take to make your music sound exactly as you intend it to. You may adept at writing and performing music, but these engineers are experts at recording your sound.
Great For Bands
While using an audio recording studio is great for anyone releasing music, it's especially useful for bands. The right studio will have both a control room and an isolation room that can handle loud instruments such as drums. These rooms should allow the members of the band to see each other while recording.
If you're looking to release music of any kind, consider recording it at Live Oak Studio in Berkeley, CA. We can offer you state-of-the-art equipment, professional acoustics, and experienced audio engineers that will work with you to find the right sound. Contact Priscilla Rice at Priscilla@liveoakstudio.com for more information.